FREE NAME BRAND FOOD PRODUCTS
Free Food, Free Food Coupons, Free Food Samples
Free Food Coupons and Samples!
Browse for free food, free coupons, free merchandise, free prizes, free samples, special offers, and the best freebies available anywhere using our free stuff menu.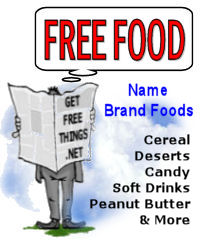 IMPORTANT FREE FOOD NOTICE:
Free Things Newsletter
Many of our free food coupons, samples and offers you'll receive in our GetFreeThings Newsletter are not available anywhere online and can only be offered through our newsletter per restrictions from the manufacturers. So join our free newsletter today and be the first to learn when the best free food coupons & offers become available!
We strive to locate the best free stuff online and we update all of our free merchandise, free coupons & free food offers daily. Be sure to bookmark our site or sign up for our free things newsletter so you are sure to be notified of the latest free food offers, coupons and free merchandise available at GetFreeThings.net
Our Latest Free Food Offers:
Enter here to win a $500 Gift Card from Popeyes Chicken!
Register Here For Your Meta Health Bar from MetaWellness!
Check out the Southern Breeze Sweet Tea Facebook Page for a Free Sample!
Join the Dunkin Donuts Rewards Program and Get A Free Medium Beverage!
Sign up here and get your choice of 3 Teamonger teabags sent right to your door!
Request a free sample of Herbalife's Deluxe Chocolate Coconut Protein Bars!
Get Heart Healthy and Claim Your Free* Sample of Cheerios cereal!
Get Free Coffee or Hot Chocolate Samples! 5 Flavors to Choose From!
Free Food Samples
Free Cereal, Free Coffee, Free Candy & More